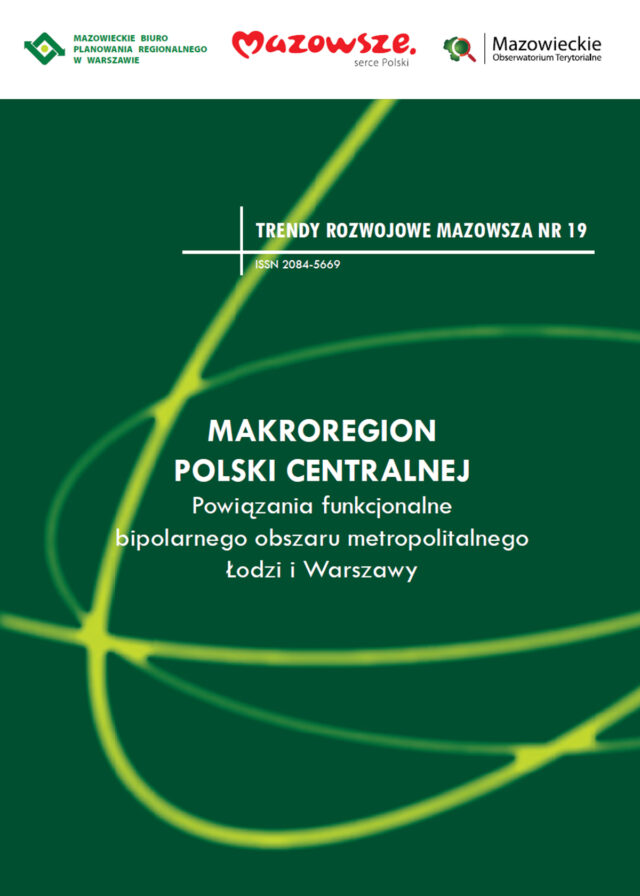 Macroregion of Central Poland. Functional links of the bipolar metropolitan area of Łódź and Warsaw
The nineteenth issue of the publication series DEVELOPMENT TRENDS OF MAZOWSZ entitled "MAKROREGION OF CENTRAL POLAND. Functional links of the bipolar metropolitan area of Łódź and Warsaw" contains the results of research conducted jointly by the teams of the Mazovian Regional Planning Office in Warsaw and the Spatial Planning Office of the Łódź Voivodeship in Łódź.
All stages of the study – from the preparation of research tools, through the implementation of field research, to the creation of the presented report – were carried out under two projects subsidized by the Human Capital Operational Program: "Strengthening the Potential of the Mazovian Territorial Observatory" and "Implementing a Monitoring System for Public Policies in the Łódź Province."
The main objectives of the study were to identify the development potential of the bipolar system of the metropolitan areas of Lodz and Warsaw, to identify the system's functional links in the fruit and vegetable and knowledge and creativity sectors, to identify opportunities for the development of cooperation between the entities of the sectors under study, and to formulate conclusions on measures to support the creation of links between metropolitan areas. The sectors selected for analysis are characterized by high growth potential, representing the strength and competitive position of the bipolar system in the structure of the country. At the same time, these are areas of activity that are considered a priority in the policies of the European Union and are explicitly identified as zones of supra-regional cooperation in the draft Strategy for the Development of Central Poland 2020 with an Outlook to 2030.
Moreover, the study being carried out is part of the scope of joint activities of the local governments of the Mazowieckie and Łódzkie voivodeships, as mentioned in the agreement signed in 2012 between the Marshals of the two regions "on undertaking work on the development of cooperation between the Mazowieckie and Łódzkie voivodeships," the aim of which is, among other things, to fully utilize the endogenous potential of the two regions and make their development more dynamic.